Bloomberg Markets and Kevin Miller: BlackRock's Value Stock ETF Sees the Most Inflows This Year
October 30, 2018
In the midst of a market storm, exchange-traded fund buyers are hiding out in the bargain bin.
Investors poured $423 million into the $35 billion iShares Russell 1000 Value ETF, ticker IWD, last week, the second largest weekly inflow this year and most since July. The BlackRock Inc. fund has taken in $580 million in October, putting it on pace for its best month of inflows this year. It tracks the Russell 1000 Value Index, which is made up of stocks with low price-to-book ratios.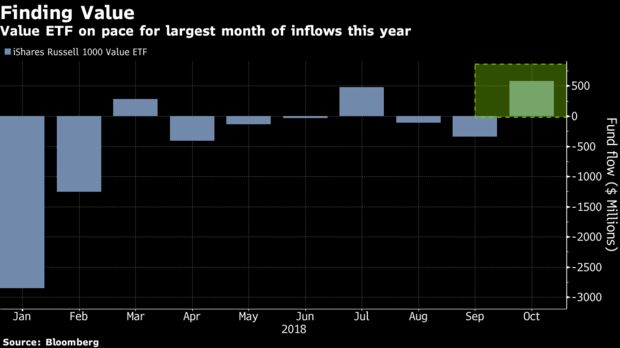 As growth-oriented areas of the market like technology get pummeled in the wake of trade concerns and rising interest rates, more defensive and value oriented plays have outperformed. Utilities and consumer staples are the only two S&P 500 sectors in the green this month. The selloff has also brought the broad market benchmark to its cheapest level since 2016, inspiring many to go bargain hunting.
"October has provided plenty of drama this year," said John Stoltzfus, the chief investment strategist at Oppenheimer & Co. "It could prove to be the best buying opportunity investors have had in some time."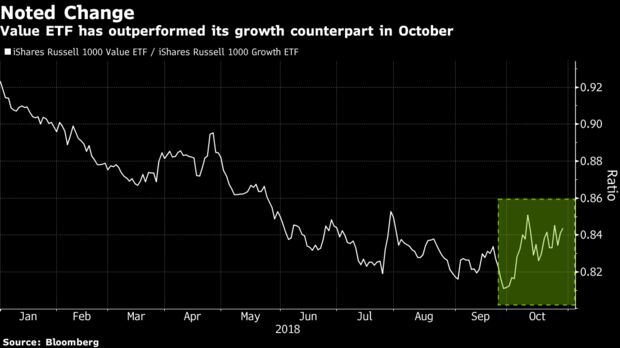 The Russell 1000 Value Index has fallen 6 percent in October, compared with a near 10 percent drop for the Russell 1000 Growth Index. The S&P 500 is down 8 percent, putting it on track for its worst month since 2010.
"When momentum starts to flatten out or not continue in its existing incline, value starts making more sense because you can still get the growth by purchasing or investing in equities that basically are on sale," said Kevin Miller, chief executive officer of Minnesota-based E-Valuator Funds. "That's why at this point in time value will be a preferred spot to be."
Source: https://www.bloomberg.com/news/articles/2018-10-29/blackrock-value-etf-sees-most-inflows-this-year-amid-carnage